Welcome to Wild Card Weekend 2019! Before we get too ahead of ourselves, I'd like to first ask that you join me in taking a brief moment of silence for the 2018 NFL regular season. It seems like just yesterday that the Redskins were ~quietly leading the NFC East~ and Patrick Mahomes ~definitely couldn't keep this up~ (my fantasy team laughs at this sentiment to the tune of $350).
Let us now channel the songbirds of our generation, Fall Out Boy, and thank the football gods for these memories (even though they weren't so great, in the case of twenty teams).
…silence over? Ok great, let's move on.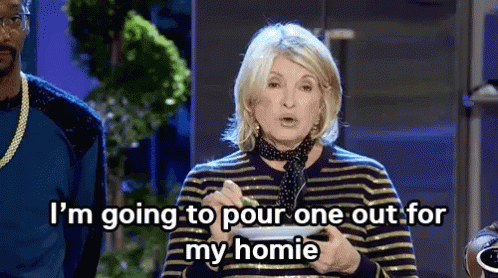 Thanks Martha, good idea. Alcohol fixes everything. Just ask LeBron.
So here we are… This is wild card weekend, where the 3, 4, 5, and 6 seeds from each conference will fight to stay alive in the race to Super Bowl LIII. I say "fight" with a lot of hope behind it, because one of the games is usually a ridiculously boring blowout that makes you wonder how this is what the best of the conference has to offer. Additionally, I say "conference" meaning "AFC" and "one of the games" meaning "whichever one features an AFC South team." There's also a fair chance that this team is starting a backup quarterback that you forgot was still in the league until three weeks ago when the starter tore his ACL. Everyone say a quick prayer for Deshaun Watson and Andrew Luck; there's still time for this to happen and ruin everything again.
But do not misinterpret my snark for disrespect — my words carry none with them. However, is this not the scenario that typically plays out? Maybe that's just what it seems like, but I'm not going to fact-check because Google can't tell me what I feel. I'm looking at you, Texans-Colts game. I want to see an intra-divisional war. Let's GO! Rewrite the narrative. Force the NFL to put your wild card game on Sunday next year. Or maybe a nice evening time slot if we're getting really frisky. Make 2019 your bitch.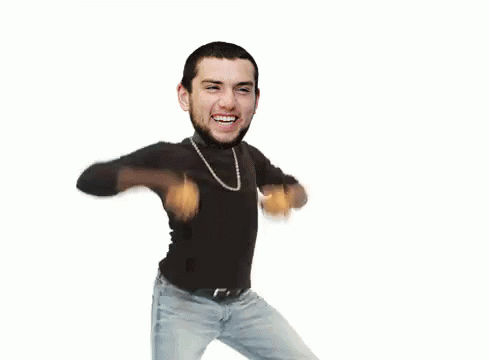 Since these games are likely to get, you know, wild, I've laid out a few storylines that will certainly play a part in determining who moves onto the divisional round. Sure, others will want you to dive into the X's and O's of these matchups… I suppose those merit a look or two. But more importantly, I want to make you aware of some potentially game-altering factors that may not jump out at you upon first glance at these games.
-All game times ET-
Colts @ Texans: Saturday, Jan. 5 @ 4:35 PM
What They'll Tell You
Despite being one of the league's most mobile and dynamic quarterbacks, Deshaun Watson has been sacked sixty-two times this season. Between all of these sacks and the amount of running dives he takes with zero regard for his own life, the guy is on the ground more than passes thrown by Josh Rosen (a lot, FYI). The Colts' defense, led by standout rookie LB Darius Leonard, runs in the middle of the pack as far as sack numbers go, but will certainly be looking to take advantage of this lack of protection (ugh, men — am I right?).
What I Need to Tell You
Speaking of Darius Leonard… as I mentioned in my rant about Pro Bowl "snubs," the rookie was "heartbroken" that he was not voted into this useless game (pretty sure he never said useless, that was just my add-in). Supposedly, he's out for "revenge" or something of that nature, as if 163 tackles, seven sacks, and a playoff berth made for a meaningless season. If the Colts made the Super Bowl, and he'd gotten the vote, do you think he'd insist on playing in the Pro Bowl as well? Makes you question his priorities.
I didn't click on this article, but I'm almost positive it doesn't go down the path on which I'm about to embark. Darius Leonard, using heated (literally) terms like "fire," sounds more than just "heartbroken." The season's end is nearing, so I've been trying to figure out how he will exact his revenge in such a short time.
Both Leonard and Texans WR DeAndre Hopkins had the best seasons of their careers this year. (I know that Leonard has only had one season, but am I not right?) But unlike Leonard, Hopkins was voted onto Leonard's coveted Pro Bowl squad. It's completely feasible that someone so upset with a Pro Bowl "snub" could be crazy enough to get irrationally angry at someone who did claim a spot. I won't outwardly suggest that Leonard could have it "out" for Hopkins on Saturday, since Gregg Williams is still with the Browns, but this could get personal. Plus, Hopkins has extremely yankable hair. Keep a sharp eye out for this previously nonexistent beef that I just created right now.
Seahawks @ Cowboys: Saturday, Jan. 5 @ 8:15 PM
What They'll Tell You
These teams appear to be very similar to one another, which should make for a close game. Both have powerful running attacks, mobile quarterbacks throwing to receivers who can make the big plays, and heavy-hitting linebackers on the other side of the ball.
Since the teams are so close, I could see this coming down to a play at the end that will show us how much Jason Garrett truly does want to get fired. Because he's definitely been pushing hard for it without saying a word. I've actually gotten word that they will start offering a class in this particular art form at his alma mater, Princeton. Those Ivies man, weird stuff.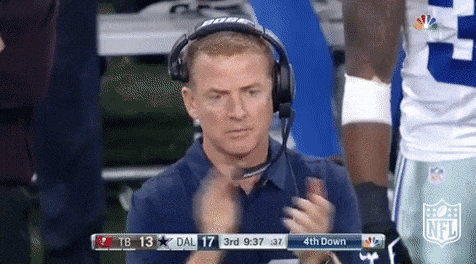 The newest addition to Garrett's piece of work will either be a terrible offensive play call with the game on the line with two minutes left, or Dak Prescott will fumble and lose the game that way. After which, we will see Garrett accidentally smile and try to cover up his excitement. There will most certainly be claps involved. I'm not saying the Seahawks will win, but I'm still trying to figure out why Garrett is here. If Marvin Lewis is finally out, I believe that anything can happen.
What I Need to Tell You
Sporting one of the sharpest jawlines this game has ever seen, Seahawks coach Pete Carroll is a notorious gum chewer (his favorite is Original Bubble Yum). He's never seen without a strong chomp taking place.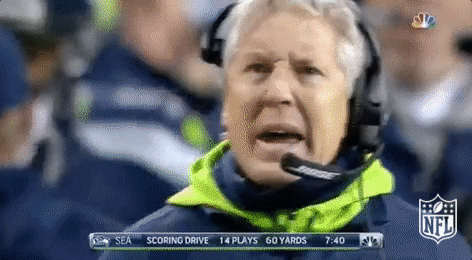 A recovering gum addict myself (about five days sober, I'll hold for applause), I can tell you that too much of this sticky goodness will lead to crippling stomachaches, usually accompanied by food to heal the pain. The constant chewing causes your stomach to expect food, so it produces unnecessary acid, and it's this whole freaking mess (didn't think you were getting a science lesson today, eh?). Typically, I end up trying to make myself feel better by overeating, which is usually what I'm chewing gum to avoid in the first place.
When Cowboys league-leading rusher Ezekiel Elliott took off his rookie year, the Cowboys coined the phrase "Feed Zeke."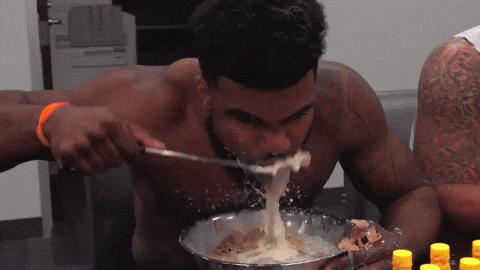 Is it unreasonable to think that upon seeing Pete incessantly chew this gum, Zeke will want some of his own, causing him to become even hungrier than he already is? We all know from Jason Kelce that hungry dogs run faster. Pete seems to be unaffected by any stomachaches, but could this be the moment his addiction finally backfires and sends him to get help?
Chargers @ Ravens: Sunday, Jan. 6 @ 1:05 PM
What They'll Tell You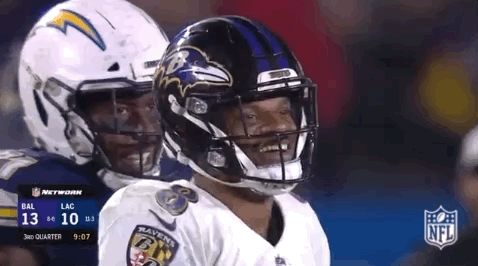 It's Rematch SZN! The Chargers and Ravens battled in Los Angeles (well, still not entirely sure that they did, since no one was actually there to see and prove it), in Week 16. Baltimore came out on top, 22-10, and the Chargers were unable to move on offense or contain QB Lamar Jackson. Bad offense and bad defense is usually a recipe for a loss — expert analysis.
That being said, the loss is fresh on the Chargers' minds, but makes you wonder — have the Chargers had sufficient time to figure out Jackson's game? Or will they come up unsuccessful yet again, as many teams have since the rookie took over? Did Los Angeles "not look like themselves" that Saturday night, or did they finally get exposed? As big of a spark as Philip Rivers ignites in my heart, I may be starting to sip Jackson and his Ravens' purple drank. As of late, it's hard to see anyone stopping their rushing attack, and plus, I sort of want to see my friend Hope get a really nice tattoo next month:
What I Need to Tell You
A part of two mediocre/sad Chargers teams in his first two years, I question whether star TE Hunter Henry will know how to function as a part of this more dominant 12-4 squad. Henry tore his ACL in OTAs in May and has been on the physically-unable-to-perform list all season. It is possible that he makes his season debut on Saturday, and if he does, I'm worried that he won't know how to operate on a successful team.
Most will be concerned that he came back from surgery too quickly, but that's too obvious of a challenge. What about the game itself? Henry's had plenty of practice tackling defensive players after Philip Rivers' interceptions and diving on balls after his fumbles, but how good is he at lining up in victory formation?
Longtime Chargers TE Antonio Gates (played basketball) had a devastating fumble the last time these two teams met and might need a walker soon, but I might trust his familiarity with twelve wins over Henry's tendencies to play on a team that crushes your soul nearly every week. Are the Chargers better without Hunter Henry?
Not only may Henry be lacking in knee strength and winning experience, but his mental game could also be partially diminished. Before the Chargers' Week 15 matchup with the Chiefs, world-renowned sports commentator Stephen A. Smith stated that Henry's matchup with (free agent) LB Derrick Johnson was a key to the game. Isn't it a little embarrassing that a man such as the esteemed Stephen A. didn't even notice that Henry hadn't played a snap all season? Maybe Henry is mentally tougher than most (he did voluntarily live in Arkansas during college), but his ego has got to be a bit shaken by that snipe.
Eagles @ Bears: Sunday, Jan. 6 @ 4:40 PM
What They'll Tell You
The final game of the weekend showcases the battle of the "Been There, Done That" vs. the "The Playoffs Are Here And I've Suddenly Forgotten How To Tie My Cleats." Reigning Super Bowl MVP Nick Foles and his champion Eagles will be flying into Chicago to face baby Mitchell Trubisky and his adorable, yet unthreatening ugly sweater.
While Bears DE Khalil Mack and his defense are also very young, they are seemingly the only defense in the league this year that has posed a legitimate threat to any other team. The Eagles have a much more experienced crew, led by S Malcolm Jenkins, DT Fletcher Cox, and DE Chris Long, but most of their secondary has been absolutely decimated by injuries. I'm pretty sure a few of their corners were just ringing up my zit cream at Walgreens a couple weeks ago. The contrast in experience on both sides of the ball for both teams will undoubtedly come into play.
What I Need to Tell You
In Week 17, when Nick Foles was injured and Nate Sudfeld was (honorably) subbing in, I was posed a very thought-provoking question on Twitter:
This was something I had not considered, but ever since it graced my mentions, I knew it needed to be shared with the masses. My response was the following:
Translation: BDN's D will be A-OK. As a former collegiate swimmer with a pedigree not even 0.1% as impressive as anyone's in the NFL, I believe that with mass quantities of adrenaline flowing, there is a strong chance that you will surprise yourself with how well you perform. Once it hits you, that blood gets pumping, things start moving (interpret that as you wish), and nothing is impossible. Bear weather is a formidable force, but I don't think it's enough to keep Foles & Co. down.