DOINK!
Grab your Crisco, ladies and gents. The Philadelphia Eagles appear to really be doing this whole thing again. It was a tightly contested match with the Chicago Bears, but a clutch late-game touchdown from Nick Foles to Golden Tate (officially worth the 3rd-rounder) put the Birds up by one with a minute left on the clock. Even more clutch, ex-Eagle kicker Cody Parkey impressively hit the upright not one, but TWO times, after the Eagles iced him on his initial game-winner. Talk about allegiance to your first team. Gotta respect that.
A resident of Center City Philadelphia, I had no choice but to venture over to Broad Street and check out the potential damage. While wild card weekend is much too early to be scaling light poles, you never know around here. No one had lathered them in Crisco before this game, so it would've been an advantageous play.
To my dismay, there were no fun videos to be taken tonight. Car horns blasted, people not participating in Sober January (losers) chanted, but no one punched a hole in the Macy's window next to my apartment. Upset for a minute, I soon perked up at the idea that Philly may be slightly maturing. We put on a remarkable display of restraint tonight and that is certainly something to hang our midnight green hats on. You know what else hangs pretty well?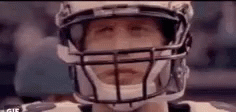 Speaking of Nick Foles, did you know he has led the Eagles to four straight playoff wins, one of them being the team's first Super Bowl, in which he won the MVP? Wild stats for a quarterback that people STILL want to trade away. Could. Not. Be. Me.
Things I do not care even one bit about:
How many draft picks the Eagles gave up for Carson Wentz — I'm an accountant, and it's called a sunk cost. It's in the past, and there's absolutely nothing the Eagles can do about it now. This is the NFL; not every decision ends up being the perfect one, and trying to justify it by trading a guy with the results Foles gives you is asinine (man I love using that word, isn't it powerful?). Sometimes you have to build a bridge and get over it.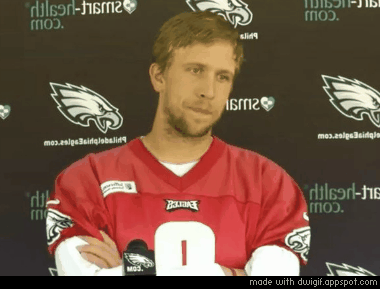 How old Nick Foles is/how young Carson Wentz is — If twenty-nine is old, someone tell 41-year-old Tom Brady that he should've retired twelve years ago and that he must retroactively give up the two Super Bowls he won in that timespan. Is Nick Foles the next Tom Brady? Nah. (Did beat him though, ayeeee!) Just because Carson Wentz ~theoretically~ has more years left to give than Foles, it does not mean the Eagles just keep praying he doesn't constantly get injured and maybe try and recreate something even half as exciting as Foles is demonstrating.
Speaking of injuries…
Carson Wentz was the regular season MVP before he got hurt last year — Well that's great, and probably true, but the whole getting hurt thing unfortunately can't be stricken from the record. Coulda, shoulda, woulda. Words that are apparently in the dictionary, because they didn't give me a red squiggly underline, but not ones that garner any merit in the NFL. I put the emphasis on "regular season," because honestly, who cares? Wentz was on fire last year, and showed nothing this year to convince me that the Eagles should build a franchise around him. I know — "but he got hurt again so it doesn't count!!" Funny thing is, it does count! The 2018 season went on without him and Nick freaking Foles brought the Eagles back from a certain death. I will NOT stand for the slander of his good name.
Do I have tears streaming down my face or is that the bird poop the Eagles just rained down on the ~unstoppable~ Bears defense?
As the season went on, the Eagles, especially the defense, became even more and more painfully decimated by injuries. BDN comes around, and suddenly the former Walgreens cashiers running around there are enough to beat the Rams, Texans, and the Bears (yes I know they beat the Redskins, but who cares). The Eagles are different with this guy at the helm. Why would you let go of that intangible magic, for the CHANCE that Wentz can do the same someday? I refuse to operate in the same manner as Jon Gruden. Nope.
The Eagles will travel to the Super Dome in New Orleans to take on the Saints next Sunday in the divisional round, but my saint goes by the name of Big Dick Nick. Go Birds.