For some context, this sign was taken off of an empty cooler that previously held probably the most delightful concoction of alcohols and juices that I have ever consumed in my life. Unfortunately, I can't tell you what's in it (and no, I'm not covering anything up, before someone wants to make that joke), because every time someone tells me what it's comprised of, this world-famous "JoePa Juice" usually ends my tailgate in a pretty significant brownout, at the very least.
Tequila was what led to this photo's presence on Instagram (follow me at @_supcaroline do it I dare you), which, as you can imagine, likely had an even greater effect on my ability to process the fact that we were losing to Buffalo at halftime:
(Still covered though.)
In faaaact, all three picks that I ever-so-selflessly doled out for last Saturday were winners.
Pretty cool when someone parlays your picks to win with +793 odds and all you did was take your team -27 and have to sweat it out the entire three hours from a betting and flustered diehard fan perspective. In the moment, you just tell yourself, "At least your mind is in the right place! You'll get 'em next time, just trust your gut!" And then proceed to win a few early Sunday bets that lead into a 1-12 football performance throughout the rest of the week. But you know what?
"You can spend minutes, hours, days, weeks, or even months over-analyzing a situation; trying to put the pieces together, justifying what could've, would've happened… or you can just leave the pieces on the floor and move on."
-Tupac Shakur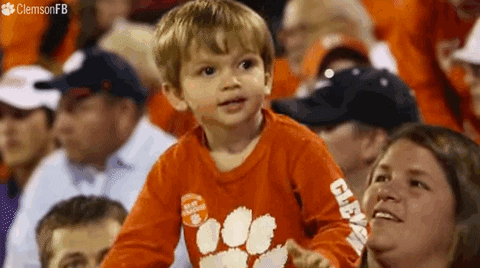 This kid's way cuter than me but he's got the right idea. I won't let one bad streak define me. It's time to put on a happy face and get things turned around, even though I am not a Clemson fan and therefore need to worry about much more than just my degenerate habits. Ride with me like I'm Bobby Petrino or fade me into oblivion, but here is what I have to offer you today:
Pitt @ Penn State, 12:00 PM
PSA: The stupid jokes that have nothing to do with me or 99.999999999999999% of the people involved with Penn State don't faze me, cause you know, I'm a good person, so please try to think of something funnier if you wish to rile me up with a Sandusky joke and think for some reason that I would take personal offense to it.
As a confirmed hilarious individual, I appreciate the extra effort and would maybe actually laugh if a sad, lonely person on the internet made fun of me specifically. There's a lot of very simple ways you could do that. No, I'm not ~triggered~ — as I'm sure some fans get — I just want to help all you all out. I was going to make a joke about how trolls are all just losers that live in their mom's basement but I live at home and spend a lot of time down there by myself. It's called self-awareness.
Anyway. Speaking of losers, Pitt is coming to State College this weekend. The 100th meeting between the two is the final year of the "rivalry," and will be coming after two years where Penn State dominated 33-14 and 51-6. I have no idea what the score was the two years before that but I can tell you that PSU has won 9 of the last 11 matchups.
So far this season, Pitt has lost to UVA and beaten Ohio, whereas Penn State has demolished Idaho and taken care of Buffalo after an absolutely brutal first half. Pitt hates Penn State, so it's fun to hate them back, because their hatred is kind of sad and adorable. You don't really hate a team you're just a zillion times better than. Mostly just their annoying fans. Or whoever those ten people that show up to their games are. Taking -17.5 terrifies me, which is exactly why I have to do it and right this ship I've been steering straight into in iceberg. I can literally hear all of you laughing and hammering Pitt right now, and I'm recording it to play later and laugh right back at you. Penn State -17.5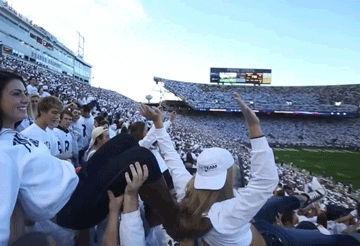 Alabama @ South Carolina, 3:30 PM
If you don't know who Ryan Hilinski is yet, figure it out. USC (yup, still calling it that) will be starting the true freshman quarterback for the second game in a row, and the former top 70 recruit is going to be something special.
If somehow, you missed it, Ryan's older brother Tyler, a former Wazzu QB, committed suicide in January 2018. It's a painfully sad story, and I cannot imagine what his family has been put through. I don't know Ryan personally, but he seems like an amazing human being that will be doing everything he does to honor his brother for the rest of his life.
Even if you choose not to bet on the Gamecocks, I'm glad that I could maybe make you a little more aware of the family's story.
This all being said, the NFL is about diva wide receivers, but college football is about feel-good stories playing out in the form of 18-22 year-old kids hitting each other and chasing a ball. Something deep in my gut (could just be the Mexican I had last night) is telling me that Ryan Hilinski is going to make his big brother ridiculously proud of him this afternoon. Even if it's just in the form of playing well enough to cover the spread. Follow my advice or don't, but if you're not yelling "GO COCKS" the whole time and standing with three fingers in the air at the start of the third, you stink.
Some would say I am being biased by placing risky bets on my alma maters, but I can't help how I feel. Last time Bama came to town in 2011, USC upset the #1 Crimson Tide. Sold. South Carolina +25
&maybe throw a little on that moneyline.
I know that I've been giving out three picks recently, but I'm going to stop at two because I want them to be the perfect two picks. I'm kinda out of steam after getting a little excited there (some would call it heated, I would call them passionless). Plus, I don't have any more alma maters to not show my bias for analyze with purely hardcore statistical information and put money on.