Ladies, gentlemen, boys, girls, friends, trolls, and the like — I present to you a story in five parts:
Sunday morning is how it started. I had no confidence in myself to begin the day, as Saturday had gone poorly from a betting and Penn State standpoint. They won, but it felt like a loss. My bets just kept losing. But after the 1:00 games ended, I had a very small, but workable, amount left to work with. In that moment, I decided that this was all or nothing: I was going to be doubly pissed if the Eagles lost to the Falcons that night.
As the day wore on, I began to gain some confidence. "Hey, I'm actually doing kinda well today! The Eagles had a great comeback victory last week, albeit over a forever-floundering Redskins team, but still! If they don't win this, I'll honestly be shocked. I'll live to see another waste of my money tomorrow during Jets-Browns when I try to get cute for the 75th time and parlay the Jets with Le'Veon Bell scoring a touchdown and neither one happens because the Jets are perpetual hot trash on a NYC sidewalk."
We could point to several different parts of the worst and weirdest display of professional football I've ever witnessed, but technically, this is the play that put an end to my three-week gambling career. And as an Eagles fan, nearly caused my heart to give out, regardless of financial implications.
I'll let you in on a secret: I didn't actually go to bed when I said "Night." Instead, I remained face down on the couch in my parents' basement where I spend a lot of time, trying to regain consciousness after being taken on a rollercoaster that gave me some major whiplash.
The Eagles? Everyone's dead.
My FanDuel account? All the money's gone.
Gambling career? Over.
Work? Still have to go tomorrow because Sam Darnold didn't give me mono like I requested.
How rude.
It is with a dry bank account, a heavy heart, and a sickness that I'm pretty sure I developed as a result of Sunday's events, I regret to officially inform you that I have temporarily retired from gambling. Michael Phelps, Brett Favre, Jay Culter, Josh McCown, probably Gronk — all the greats go through it. But what they also have in common is that they all come back better than ever. Sort of. Or at least with a vengeance? No, that's probably not it either… but you get the point.
Regardless of how I return, one thing is for sure: It's not a goodbye, it's a see you later.
Many tried (unsuccessfully, might I add) to throw me right back into dangerous waters last night, but I resisted. If Darnold's immune system had done the same, perhaps last night's game would have been a bit more challenging for those who did gamble on it.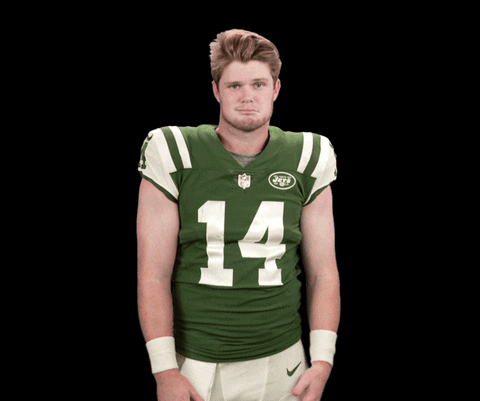 The counter of days I have gone without gambling has been officially set to one. The counter of general days of degeneracy remains at zero. And I have not yet set a return date. Currently, I have plans to stumble back in around bowl season, because if I'm going to spend my nights watching Redbox and Cheez-It Bowls, I'm gonna have a stake in them. That's just how it has to be; I don't make the rules.
Although I won't personally be risking bankruptcy (for now), I think I should continue to write my thrilling weekly picks blogs. Now that my horrible luck (and a bit of stupidity and blind faith) is not mushing any of the picks, these may actually be wildly beneficial for you! Only time will tell.
Goodbye for now, degenerate gambling… I barely knew you, but I'll always love you like the children I don't have.