Yes, you read that title correctly. It was probably a bit of a head-scratcher, but it's exactly how was intended to be made. Just like when my parents made me back in the day.
After one week of NFL action (shedding a tear thinking about how it's partially over), we've already learned quite a bit about the way the season is going to unfold for certain teams. Or perhaps, you think you've figured out all of them. It's overreaction SZN!
Fifteen NFL fanbases are calling for heads, absolutely distraught that this is what they have waited seven months to witness. Thirteen fanbases are riding high as can be, trying not to get too far ahead of themselves. Two fanbases can't believe that ties are still a thing in this league (actually, that's probably all 32). The Patriots fans have already crowned themselves seven-time champions — Robert Kraft can't wait to hit up Florida next week to celebrate. And the Chargers don't have fans.
So yes, after one week of games, fifteen teams already have wins to tout. They probably don't need to be celebrated anymore, and are onto week two. But the NFL is back, I can't contain my excitement, and I need to dish out some more wins to the winners. The losers can put their big boy pants on, get over it, and kick ass next time. Except for the Dolphins. They're fucked.
I will not contribute to the pussification of America, so here are my NFL Week 1 Game-Winning Award Winners:
Supplied Me With Twitter Heat Award
Aaron Rodgers, QB, Green Bay Packers
The NFL's first game of the season lacked even less spunk than Aaron Rodgers himself, but I got off the best tweet of my young, flourishing internet career, so all was fine and dandy. Not to make this all about me. But also to totally make this all about me. I still gave him a nice award, though! Gotta love a mutually beneficial relationship where the other person doesn't even know you exist. And neither does the trophy for said award.
Touchdown Vulture Award
Malcolm Brown, RB, Los Angeles Rams
We all knew something like this was coming. Todd Gurley's knee has supposedly been falling apart like a Nature Valley granola bar, so one of the Rams' other RBs was going to be getting a heavy workload. Some of us drafted Darrell Henderson way too early because they thought it would be him, and are dropping his ass today. But if you guessed Malcolm Brown, congrats! Gurley racked up the yardage, but Brown cashed in on what really counts. Have fun figuring that one out all season. Hopefully Brown doesn't ruin any Rams covers this year, cause I'm on a brutal cold streak the last two days.
Don't Hate The Player, Hate The Name Award
Hollywood Brown, WR, Baltimore Ravens
This man showed up to his NFL debut, played twelve snaps, caught four passes for 147 yards, hauled in two electrifying touchdowns, and peaced. What can you do? That's showbiz, baby.
Benjamin Button Award
DeSean Jackson, WR, Eagles
To anyone who would prefer that this go to Tom Brady — robots don't qualify, sorry. This Sunday was a DeSean Jackson-Redskins revenge game (hope ole Chip Kelly caught a few highlights too), and boy did he let everyone know it. The man will be catching 50+ yard touchdowns until his death, the age of which is getting increasingly more difficult to calculate, as he is aging in reverse. Say hello to Carson Wentz's new best bud. Hopefully he likes duck hunting.
Who Cares I'm Patrick Mahomes Award
Patrick Mahomes, QB, Kansas City Chiefs
As he often excels at doing, Mahomes tried to get cute and completely missed a wide open Kelce on a signature no-look pass. But don't be fooled by the even-cuter tweet — he's not buying Kelce shit. Ridiculously stupid play? Who cares, he's Patrick Mahomes. He's gonna make you buy both of your lunches, eat yours, and you're gonna like it.
Same Shit Different Sunday Award
No One Really Wins But I Guess It Goes To The Buffalo Bills
I didn't watch this game for one second. Did you? Doubt it. But you know what happened, right? Josh Allen turned it over four times and the Jets still blew the game. You don't need the box score for that. Consistency is the key to winning in this league, so shout out to the Jets Bills for taking that W.
LOL Award
The Entire Tennessee Titans Team
Unless you're a Browns fan, this win made you laugh. Sure, I'm a Baker Mayfield fan, but after watching the Browns and their fans throw an offseason-long premature Super Bowl celebration because they traded for OBJ, I chuckled. Sue me. I hope they bounce back, but I also hope Browns fans stay a little closer down to Earth moving forward. If not, that's fine too, 'cause, ya know, sports. The only thing I'm really concerned about is the possibility of Baker crumbling beneath the weight of all of the chips on his little shoulders.
New Man On The Minnesota Vikings Award
Kevin Stefanski, OC, Minnesota Vikings
Don't want Kirk Cousins to screw anything up? Easy, says Kevin Stefanski. Just don't let him throw more than ten times or for over 100 yards.
Fiscal Irresponsibility Award
Jerry Jones, GM, Dallas Cowboys
As an Eagles fan, I certainly don't ~love~ succumbing to the idea of Dak Prescott being a quarterback that is worthy of big money. Of course, one game in the season is a very small sample size, but I'm fully supportive of the idea that running backs just aren't that important from a big-time contract standpoint. Is Zeke unbelievably good? Does a bear shit in the woods? Is his hair absurd? But quarterbacks rule the NFL, and someone may have spent too much money on Mr. Crop Top to have a sufficient amount left for Mr. Dick Pic.
Fiscal Responsibility Award
Tom Telesco, GM, Los Angeles Chargers
Melvin Gordon: Pay me or trade me.
Chargers: Nah.
Austin Ekeler: Hey hey look what I can do!!!!!!!
Gordon: Fuck.
Chargers: Lol.
What Year Is It? Award
Richard Sherman, CB, San Francisco 49ers (Honorable Mention: Jameis Winston)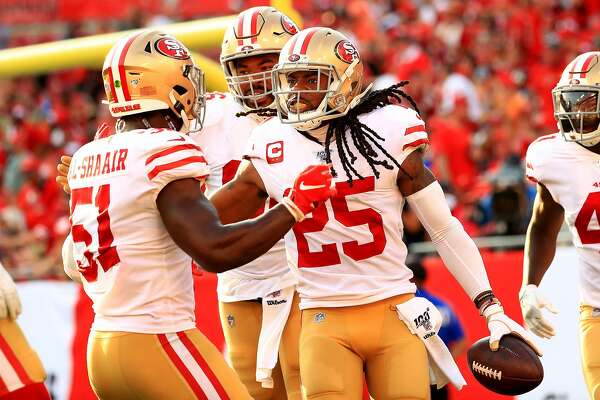 Richard Sherman was on the scoring end of one of Jameis Winston's two pick-sixes on Sunday, which begs the question — what year is it?! But then you remember that Jameis Winston has been throwing pick sixes for years, and yes, the Bucs are still continuing to play/pray along. So it does, in fact, make perfect sense that Richard Sherman was one of his most recent beneficiaries.
Won With DK Metcalf as Leading Receiver Award
Russell Wilson, QB, Seattle Seahawks
This man won a Super Bowl, which is arguably more impressive than this award, but his front office has been sputtering trying to fully load the arsenal around him ever since. Russell Wilson, who knows a thing or two about pent up ~frustration~ still managed to handle himself remarkably well with a rookie receiver who you'd sooner expect to see as a sculpture in Greek mythology museum than on a professional football field.
Sneaky Talented Award
Antonio Brown, WR, New England Patriots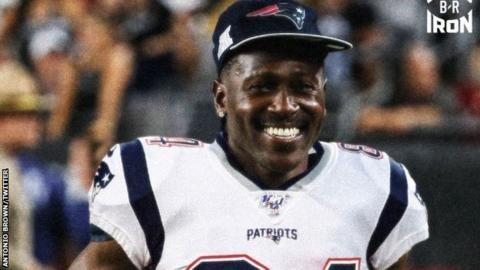 Freshly minted Patriots wide receiver Antonio Brown wasn't even in Gillette Stadium on Sunday night, and still managed to be the talk of the Patriots' drubbing of the Pittsburgh Steelers. Can you believe the Patriots basically got him for free, and then he ended up being the most significant part of that game? I'm on the edge of the massive dent I've made in my couch waiting to see if he has enough talent to keep this hot streak going.
BIGGEST BALLS AWARD
Wil Lutz, K, New Orleans Saints
AND WE AIN'T TALKING FOOTBALLS, FOLKS! Truly a (not Minnesota) miracle that they didn't get in the way of him making the most clutch kick I have ever seen in a football game.
Nice Guys Finish Last First Award
Derek Carr, QB, Oakland Raiders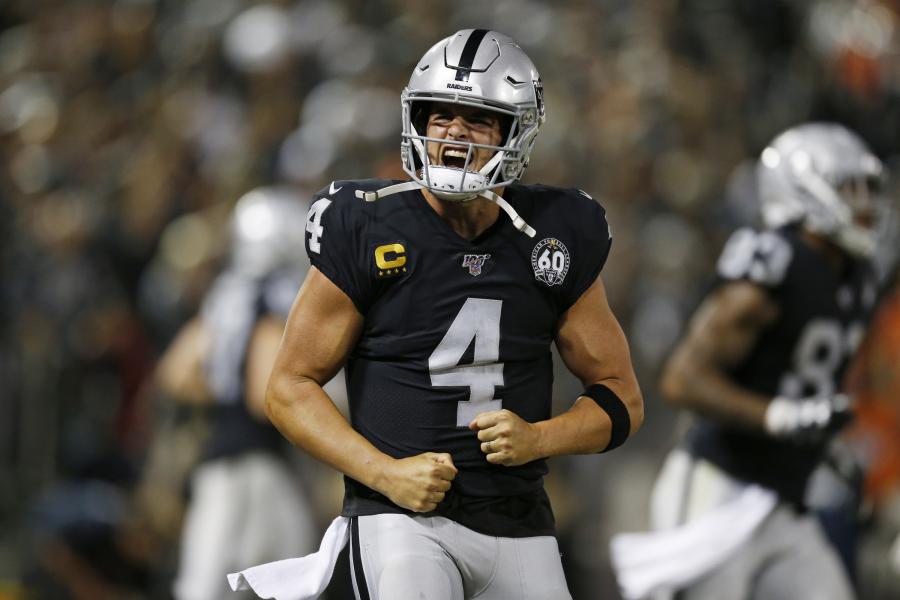 In a game that I should not have stayed up until 1:15 AM to watch myself lose a large sum of money on, Derek Carr proved that the Raiders could still get it done on offense without the most psychotic player in the league. Who would've thought that that would actually help them? Not me, obviously, because I hammered the Broncos in what appeared to be an easy victory over what seemed to be a team filled with distractions.
After playing in front of a crowd chanting "FUCK AB!" for three hours, the first thing out of Carr's mouth in his postgame interview was that the Raiders love Brown and truly want the best for him. And he sounded sincere! Who the hell is that nice of a person?! I guess it's easier to be kind when you just pounded a division rival, but it was jarring to see in a league where players are also punting balls at their GMs and calling them crackers. #NotMyNFL, Derek Carr.