They say that when you write something in a blog, that's when it becomes real. ("They" is me, who just said it for the first time right now.)
While it's tough for me to formally state this, the time has come for me to share. As of a couple of weeks ago, I am no longer a greased-pole-climbing, horse-shit-eating citizen of the gritty city of Philadelphia. (For the record, I did not participate in either of those activities, but I commend (?) the brave souls who took that chance.) The two years I spent there in my precious Center City apartment, first attempting to become an adult (spoiler alert: failed), shall never be forgotten (although the second half of Super Bowl LII still is).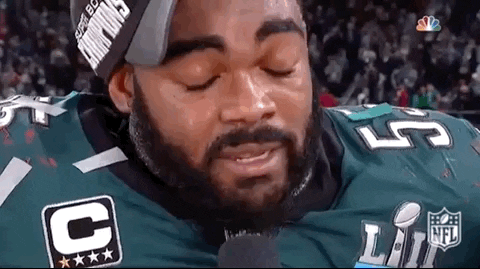 However, as it typically does, life happened, and I made the decision to get a new job and move back to where I grew up — where the sassy, sports-obsessed Caroline came into her own: York, Pennsylvania. Or as I so fondly refer to it: Podunk, PA. The most annoying part about growing up in York wasn't that the best place to get food was a gas station (that's actually the best — #TeamSheetz for life). It was that every single time, without fail, when you told someone where you lived, they said, "Oh cool, where in New York?" And I'd let out a deep sigh and respond, "No, just York. In Pennsylvania. You've probably never heard of it." And you feel marginally bad about yourself for like ten seconds. Guess I have that to look forward to again.
But not everything about York stinks! We got a Chipotle when I was in high school. That was a tremendously big deal. Aside from that and my delicious gas station cuisine, there are still some other nice things. Namely, the house that my parents are letting me stay in rent-free. It's not too difficult to pack up your absurdly large collection of sweatshirts and move to a new place when you know your new shower will actually have water pressure and you don't have to make friends with someone who has rooftop access because you have your own pool now. Making friends as a (semi-)adult is fucking torture. I just need a tan.
Perhaps the best part of moving home is returning to the comfort and familiarity of my childhood bedroom, where I cried about important things like swim meets and the Chargers' incompetence from the age of nine to eighteen. In my first-ever blog, I recounted the time that my mom rudely made me get rid of the Philip Rivers fathead behind my bed after moving out (she now admits this may have been a poor decision). So while I am no longer visually assaulted by a massive sticker of Philip upon entering my place of rest, there are still a few treasured nuggets that can be found.
One remnant of the fathead still sits above my closet. This is neat, because every time I go to grab my Carson Wentz jersey this fall, I can say to myself, "Oh, remember when mom made you tear him down? And then you ditched him to become a dirtbag Philly fan? Tough."
Here lies the giant empty space that was once home to Philip, mid-sidearm delivery. Probably about to shovel one off to Vincent Jackson, 50 yards downfield to catch a jump-ball in the endzone. Those were the days…
Upon my mother's admission of her mistake, we discussed the possibility of a new fathead roommate of mine. I'm open to suggestions, if they are "Patrick Mahomes."
LT is the man who made me fall in love with football, and for that I can never repay him. The least I can do is pay (aka ask my parents to) a couple hundred bucks for an autographed photo of him from NFLShop.com. Very sentimental.
My dad and I once stood outside of the team's hotel (the same one I scared Ron Rivera in) and cheered as they boarded the buses, on their way to destroy Peyton Manning's Colts on Sunday Night Football. There, I tried to get LT's replacement, Ryan Mathews, to sign my jersey of his to no avail. Sadly, I only came away with a washed-out close-up photo of my awkward teenage face with Norv Turner in the background. If I could find this photo, it would arguably be a much more loved memento.
It's cute, but nothing to write home about. Really resonates with me in that regard. However, it is exciting to look at and think about how the Chargers are finally making those beautiful powder blues their home uniforms. Nothing screams "might actually win a Super Bowl" louder than that very overdue gesture.
York, PA stand UP! Quite possibly this town's most notable claim to fame is that it raised one of the greatest fullbacks to ever pound the rock, John Kuhn. I have no idea how my dad got me a football signed by the esteemed PFTCommenter's top fullback of all time, but it would certainly be something to show off at parties. If parties were something that I hosted or even attended.
My only gripe is that the signature is a little too legible for a fullback. I was expecting two straight lines, no funny business. Maybe just a giant "J" and then a careless squiggle. Fullbacks don't have time to perfect their John Hancocks. The John Kuhns of the world are too preoccupied thinking of different ways to run for a one-yard gain.
Here are some football cards (all Chargers) that I was apparently so concerned about maintaining that their carrying case was actually taped shut. I wonder how much they'd go for on eBay. $5? That's almost half a drink in Philly if I ever go back.
If you don't know who Sandy Aracena is, then we can't talk about baseball on the same level with each other.
Just kidding. About ten years ago, he was the catcher on the York Revolution, a team in a league so low that it's not even an MLB affiliate. Young Caroline, forever fascinated with names, got a kick out of the name "Sandy," and used to SCREAM his name from a skybox every time he was up to bat. One time he waved. I was that obnoxious.
But as they often do, my pestering efforts paid off, and my dad got me a signed baseball for my birthday that year. Wonder what he's up to these days? Can't believe he hasn't reached out. I guess my birthday isn't until next week.
I know I've never mentioned it before, but I was an athlete too, ya know. So good that the only awards I came away with were for being a nerd that also happened to participate in sports. They're now sitting behind my TV that I brought from Philly, so no one can even see how smart and slightly athletic I was. Sad.
Alas, here is the newest addition to my decor, until I decide on which oversized sticker to slap on the wall above my bed. I spent $35 on this and have zero regrets. The only thing cooler than a backup quarterback winning a city its first Super Bowl is bobbleheads. You combine the two, and you have a timeless piece that will sit on your bookshelf forever, or at least until you finally move out of your parents' house. But I'm just getting comfortable, so I expect Nick and I to have a friendship lasting much longer than any of the others ones I've made over the past few years.
Stayed tuned @_supcaroline on twitter to find out what fathead I unnecessarily spend $100 on!