First things first — we're actually cancelling the word "tank" moving forward, because it's the off-season, news is slow, and there's no time like the present to introduce some sweet new verbs into our football glossary. Furthermore, if I'd used the word "tumbling" in the title, you would have wondered why I was writing about gymnastics (not to brag but I was a gymnast in elementary school and I sucked). Consider yourself now informed.
The 2020 NFL Draft is just under a year away, but as I've said from the beginning, it's never too early for Big Board SZN. An investigative top-pick blog will be pointless at this time next year, as everyone and their mother will be drooling over Trevor Lawrence. But today, it's as perfect a day as any to take a look at what player a few struggling teams* will be abandoning their seasons for in about five months.
*Probably the Giants and they won't even have to do it on purpose.
#TumbleForTua
Tua Tagovailoa, QB, Alabama
He saved the day for the Tide in 2018, and needed saved the next year. So, the opposite direction that my tailgating habits have gone since I graduated. Nevertheless, Jalen Hurts took his horse to the old town roads in Norman, Oklahoma, and Tua looks to put up Heisman-worthy numbers for the second year in a row. This, all while leading Alabama back to the National Championship for the fifth straight season.
Exponentially more important, however, is the idea that his NFL potential has a chance to change the current narrative plaguing championship-winning Alabama quarterbacks. Aka — he'll actually be a starter at the next level, and likely a successful one at that. While his size is not quite prototypical, neither is his ability to flat-out ball, compete, and win football games.
#SuckForTheDuck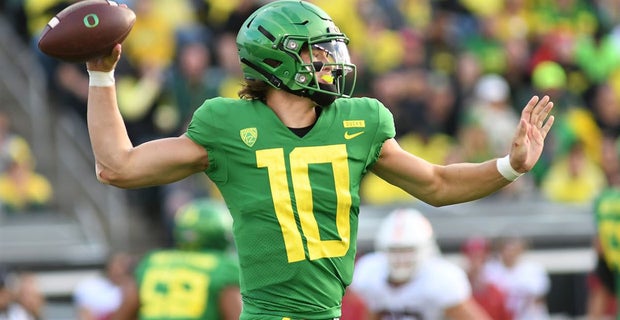 Justin Herbert, QB, Oregon
Once thought to be a candidate for the top selection in the 2019 draft, Herbert opted to stay in school for his senior year instead. Makes sense… I mean, have you seen those locker rooms? Standing at 6-6, 235 pounds, with an impressive résumé to boot, he certainly looks the part… think of all the headaches the Cardinals could have avoided!
I'd be lying if I said I stay up late at night to watch Oregon's games, so I don't know much about him, but there's got to be a reason everyone is hyping up Oregon right now, no? (Besides the fact that they signed a transfer receiver from Penn State that suffers from a severe case of the dropsies.) If Herbert can cure Juwan Johnson, induct him into the Hall of Fame before he's even drafted.
#ChokeForChase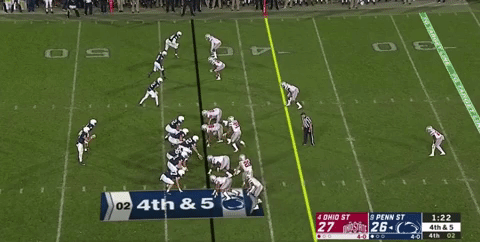 Chase Young, DE, Ohio State
My stomach folded in half and fell lifelessly out of my body as I copied and pasted this gif, but I did it anyway, in order to:
Show how totally unbiased I am even though I live and die by Penn State football, thought about this play for the next three months, and (continue to) let it affect my emotional well-being
Show how dominant Chase Young is and why a team would definitely choke for a chance to get their hands on his game-changing abilities.
We certainly choked vs. Ohio State last year, but unfortunately we didn't get to bring Chase onto our team this year. Can't wait for round three!
The last time a defensive end went #1 was back in 2017 with Myles Garrett, so it's not out of the realm of possibility that it'd happen again. Since 2014, the top draft picks have gone DE-QB-QB-DE-QB-QB, so it makes ya think. If Young can build off of his 9.5 sacks and 14.5 tackles for loss from a season ago, he makes a case for himself to follow in Garrett's massive footsteps.
#GetBooedForAndrew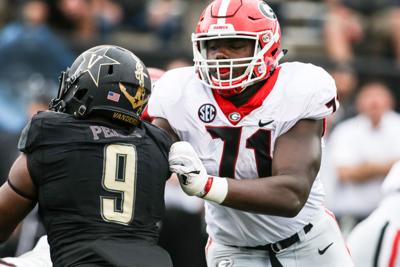 Andrew Thomas, OT, Georgia
While a ridiculously unsexy position to draft at #1 (or before like round five in general), we'd all be remiss to dismiss the importance of having two rock-solid guys to man the edges and protect our teams' quarterbacks. Aaron Rodgers breaks his collarbone by breathing, Ben Roethlisberger is saving money on shoes because he lives in a walking boot, and Carson Wentz may as well go as a mummy for Halloween for the rest of his life. Surely, the 6-5, 320-pound Thomas, who has played both tackle positions, can find a home and save a life or two in the NFL.
#DrownForBrown
Derrick Brown, DT, Auburn
As a former swimmer, I am far too accustomed to using the phrase "I drowned" after a rough race, so forgive me if it's a strange verb to apply to football. I suppose a season that results in possession of the top pick may have a team drowning in its own tears and/or issues, so it does check out!
Measuring in at 6-5 and 325 pounds, Mr. Brown could help a struggling team punish opposing offenses so that they're crying next year instead. The rest of the league would be smart to purchase some waterproof eyeliner under the advice of Derek Carr. That's right Derek, I know your tricks.
#SendItForDelpit
Grant Delpit, S, LSU
I don't expect the Browns to be drafting #1 overall, as they appear poised for a successful season, and seemed to very much enjoy being out of that position this past draft:
However, after trading for Odell Beckham Jr., who joined fellow LSU receiver Jarvis Landry, and drafting corner Greedy Williams in the second round, they seem to be stocking up on LSU players as of late. This could be something to watch for if the dream team narrative goes extremely south.
Cleveland season predictions aside, Delpit is the light-em-up playmaker every defense needs, and could be one to watch at the top of the draft next year… if for no reason other than the fact that he could pop your head off, catch it midair, and return it for a touchdown should you choose to ignore him.
#HailMaryForJerry
Jerry Jeudy, WR, Alabama
I cannot imagine a world in which a wide receiver would be taken with the #1 overall pick, so look for the Giants to take Jerry Jeudy there in that very position next year if* they wind up in that spot. (*when) I do, however, wonder about Daniel Jones' ability to throw a Hail Mary that would actually reach Jeudy, who reportedly runs a 4.40.
#WetTheBedForEtienne
Travis Etienne, RB, Clemson
This potential campaign is another longshot, but I really wanted to use the phrase "wet the bed," because I'm twelve, and Etienne is currently the highest-ranked prospect that I could make that work for. If Saquon isn't good enough to go #1 overall, then no running back is. But congrats on the national championship I guess… wonder what it's like to win one of those…