This year's Final Four is upon us, and truth be told, I'm not overly enthused about it. The absence of football has me feeling especially empty, and I've been longing for the Draft while simultaneously dreaming about attending Penn State's Blue & White tailgate game in a couple of weeks. If you keep up with me on twitter, you know that I've also been caught up in a whirlwind romance with baseball, so my mind has been uniquely occupied as of late.
I had genuinely been enjoying the first few rounds, but after the lack of upsets, I started to tune it out. However, Saturday brings the Final Four, and it's against the law to skip it, right? I'll probably watch, as the Phillies game (which I am attending… *heart eyes*), should be over by the start of game one.
There are a few days left until I must be locked in, so in the meantime, I have built a starting five for each team, comprised of current NFL players from each school. The task proved to be infinitely more challenging than I expected, but football, being inherently more exciting than basketball, can spice up any situation. Just don't expect to recognize all of these names.
Game 1: #5 Auburn vs. #1 Virginia
Auburn
Cam Newton – QB, Panthers
Apparently, Cam quit basketball at age fourteen due to his penchant for committing excessive fouls. I don't see this as a problem in the tournament, however. Tacko Fall had the same issue against Duke, and everyone loved him!
Cameron Artis-Payne – RB, Panthers
One of my favorite elements of basketball is occasionally seeing teams try to squeeze the long last names of players onto the backs of their jerseys. The peak is when the letters must be curved, which always creates a fun addition to the jersey. Sporting the sometimes-tricky hyphen, Artis-Payne has the potential to give us all that aesthetic joy.
Kerryon Johnson – RB, Lions
If this man can be the savior that finally gave the Lions a single-game 100-yard rusher, he has already convinced me that there is nothing in life that sits out of his reach. This includes starting for a Final Four basketball team while standing at 5'11".
Dee Ford – DE, 49ers
Perfect fit — there's no foul for offsides in basketball! Just watch yourself on those backcourt violations. We know what happens to you in semi-final match-ups.
Ricardo Louis – WR, free agent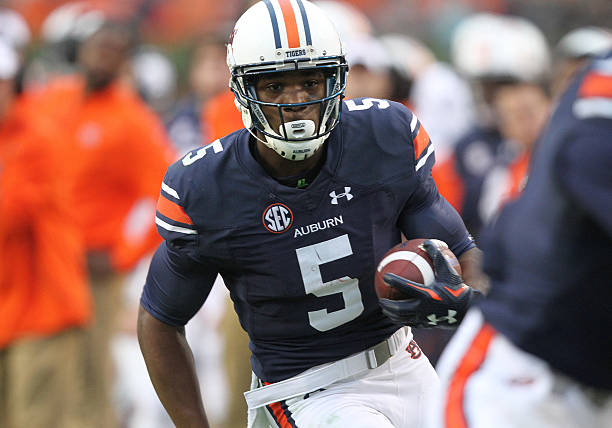 He just got waived by the Browns, so he should be free this weekend. Additionally, after being cut from what is lining up to be the most electric offense in the NFL, he should be playing with quite a bit of passionate anger. If you are easily offended by these displays of raw emotion, please shield your eyes instead of causing a fuss on the internet.
Virginia
Chris Long – DE, Eagles
While not a part of his look until he reached the NFL, the colorful tattoo sleeves he currently rocks were made for the sport of basketball. I'm not entirely sure why, but everyone's tattoos are just cooler in the NBA, no? Is that commonly agreed upon knowledge?
Matt Schaub – QB, Falcons
I'll be honest — I was grasping at straws trying to identify those on this list of current NFL players from Virginia. Schaub lettered in basketball in high school (which may have been fifty years ago judging by this photo), and that's gonna have to be good enough for this squad.
Oday Aboushi – OG, Lions
The name doesn't ring a bell, but a quick Wikipedia search will tell you that he is an extremely charitable man. Paired with Chris Long, the two serve as the portion of the team that does a ton of community service and convinces the rest of the student body that the basketball team isn't just a bunch of dumb jocks.
Rodney McLeod – S, Eagles
This selection worries me a little, since he won a Super Bowl with the Eagles. He obviously possesses the championship mentality, but since Auburn can't decide if they are tigers or war damn eagles, he may get confused and try to win another ring for the wrong team.
Austin Pasztor – OT, Titans
Similar to Aboushi, I have absolutely no idea whose mans this is. However, he is 6'7″, and if you're that tall and can't play basketball, you may as well just cut off your own foot so that you have a legitimate excuse for your inability.
Game 2: #2 Michigan State vs. #3 Texas Tech
Michigan State
Le'Veon Bell – RB, Jets
He's only here until a different school, regardless of how bad it is, offers him and his parents an even fancier car a better situation in which to further his career. But hey, while he's here, he'll be really good for your team! Just try not to miss him too much after this season. Cause he's leaving.
Kirk Cousins – QB, Vikings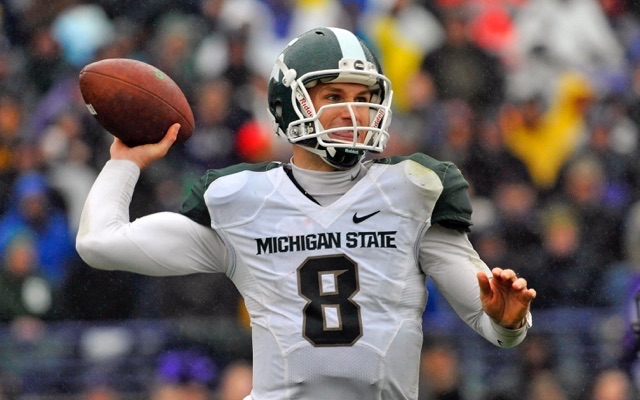 He will make sure to let his team know that the viewers are tuning in to the game because of his team, not Texas Tech. And then completely embarrass himself in front of the entire country on national television.
Drew Stanton – QB, Browns
Every team has that forever-dependable guy who's been around for just a few years shy of a million. You had no idea he was still in the NFL either, did you?
Brian Hoyer – QB, Patriots
As demonstrated by LeBron, bald heads were made to be in basketball headbands. He's also married to his high school sweetheart, so he's probably never had a load management issue.
Connor Cook – QB, Lions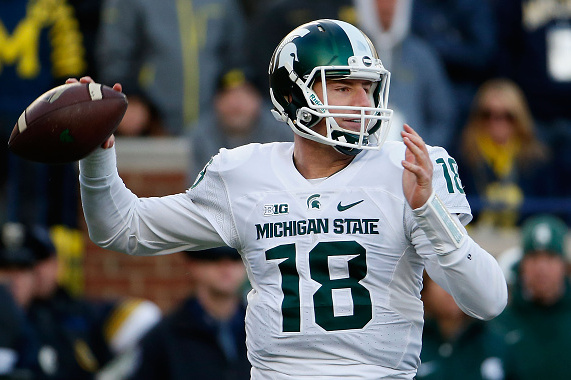 I figure that if three-fifths of the team is already comprised of slow quarterbacks fumbling down the court, we may as well add a fourth and make it even more entertaining to watch. Perhaps Texas Tech would be so perplexed by the group that they'd get confused and give the Spartans a fighting chance. At least they're all tall-ish. Maybe even "deceptively athletic."
Texas Tech
Patrick Mahomes – QB, Chiefs
Did you know that he played baseball and basketball?! It's kind of kept a secret but I figured since we're friends I'd throw you guys a bone.
Danny Amendola – WR, Lions
Not having to wear a helmet should play to his advantage, as his face will now likely be a distraction for everyone else on the court. Good luck getting a shot off with that handsome mug staring you down.
Michael Crabtree – WR, free agent
Luckily, in basketball, letting the ball hit the ground very often is actually required by rule. Can't wait to see those handles!
Cameron Batson – WR, Titans
Similar to yours truly, ole Cam here graduated college with a major in accounting. This, combined with the fact that my 2K MyPlayer's stock has been skyrocketing, allows us to follow the beautifully flawed logic that this guy will also be outstanding at basketball.
Cody Davis – S, Jaguars
Although not relevant in the least bit, Cody once won $5,000 on the "Punch a Bunch" game on The Price is Right. While it probably does not pertain to his basketball skills, I thought it was interesting, and Texas Tech's lack of current notable NFL talent made it nearly impossible to assemble a team. This blog is over. Enjoy the games.