Not today, Satan.
My, my, my… look what we have here. Take me to Buffalo and throw me on some tables cause they have turned and I am on a ROLL (relatively speaking).
It feels like ages ago that I was spiraling out of control, from both a personal and gambling perspective. If we only point our attention to the last few days, I may be the best gambler that's ever lived! I also may have forgotten to bet PSU -6.5 and Duke moneyline before I crossed state lines on Friday (this is where you all make fun of me for using FanDuel and not having a bookie), but hey, I helped some of you, and that's all that counts! Right…?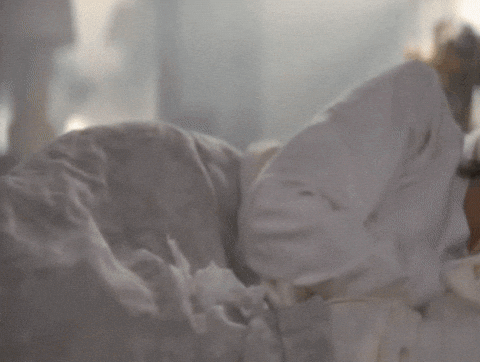 College football Saturday treated me with some decency, which seems to be the standard I've set for both gambling success and men these days, so here I am. Back again, daring the NFL to lose me all of my winnings as it has every Sunday so far this season. I'm hot and ready (like Little Caesar's Pizza) for it to screw me without even buying me dinner first. It doesn't even have to be fancy. It could be Chipotle. But in all likelihood, I know that I'm just going to get used again and end up with self-purchased McDonald's.
At what point do I just say "fuck it" and throw down a massive wager on something that'll bring me back to even? Probably not until I marry rich one day — so, never, I guess. Perhaps today is the day that I turn around my NFL fortune and start to build one for myself.
Chargers @ Dolphins, 1:00 PM
They might go 0-16, but let me tell you something — one of these days, the Dolphins are going to cover a spread. I have yet to bet against them, because I just know when I do it'll be the day they actually cover… Which got me thinking — why don't I just mush the mush and bet on them? It's genius!
For much of my adolescence, I moped around as a tortured Chargers fan, and let me tell you something else — the Chargers SCREAM "we will be the first team the Dolphins finally cover against." So many precious hours of my life have been spent watching them squander surefire wins that I can say this with the utmost confidence. Hell, the Dolphins may even win! Forget every Dolphins player you've seen duck when a pass was thrown his way. It's going to be hot out, and I can already see Philip Rivers sweating profusely, running for his life with his beet red neck, trying not to throw a back-breaking fourth quarter pick. Everyone watching will be screaming, "BUT IT'S THE DOLPHINS!!!" Doesn't matter. This is just the Charger way.
The Bolts are, however, coming off two tough losses, and I've also gained some maturity this weekend (I didn't get obliterated and consume 90000 calories of food at the PSU game on Friday), so I won't go insane with any moneylines here. But a loss by less than two touchdowns? Put that in your beer bong and chuuuuug my Something's-Gotta-Give-Lock of the Week. Dolphins +14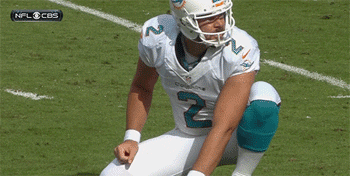 Raiders @ Colts, 1:00 PM
PUT SOME RESPECK ON JACOBY BRISSETT'S NAME. That's all I'm going to say. Mostly because I'm writing this at midnight on Saturday with one eye open and I just blindly threw money on it within two seconds of seeing the line and am wondering if I regret doing so. It was +100 so I had to.
Regardless, the Raiders are wildly unimpressive and got blown out by Kirk Cousins. That's grounds for relegation to the XFL. It's all too easy to picture the Colts giving a touchdown while running up and down on that crisply manicured turf in their perfectly picturesque dome. Can't you see it? That turf won't be the only fresh green in your life after you take this one. Colts -6.5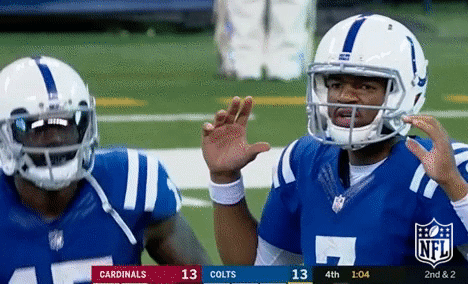 Jaguars @ Broncos, 4:25 PM
Joe Flacco is an old, stale end piece of bottom-shelf white bread, and Gardner Minshew is a soft, fluffy, and delightful roll from the free basket on your table at Texas Roadhouse. That mustache? The drool-worthy cinnamon butter that it's served alongside.
To be honest, I'm not entirely sure that this game is watchable, mostly because a quarter of the players that are participating in it belong to the Broncos' offense. That's why I'm going to bet on it and force myself to be intrigued by more than just The Legend Gardner Flint Minshew II.
The winless Broncos looked painfully incompetent and rattled against the Raiders (even more so because I threw too much money on them), played one of the ugliest games of this young season vs. the Bears, and I have absolutely no recollection of them playing the Packers last week. Seriously. I had to google their schedule to see who they played, and I've been staring at it for ten minutes because I just don't believe it. I thought the internet might have been wrong, which is NEVER true. Did anyone watch this? Until someone confirms, I will not concede to the fact that it took place. Congrats to the Packers on the free win, I guess.
On the other hand, the Gardner Minshew the Jags are coming off a solid primetime win against the Titans (are they good?), and a close loss vs. the Texans in Minshew's first start. This line is only three points, so if you don't know what I'm about to say right now, I'll assume you're new and give you a pass. NO UNDERDOG SMALL STUFF FOR THIS CHICK. Jaguars ML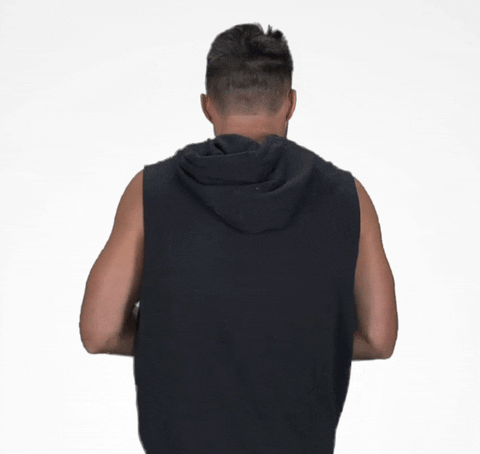 If you say you would, I'd love to know what else you lie about.