"Frenzy" was probably the more natural "F" word to use in this title, but it felt lazy and trite, so I went with "Freakshow" to spice things up a little bit for your weekend. After all, I'll be in attendance at the PSU/Maryland game tomorrow night, and I am in fact a freak, so it plays. You're also gonna want to see the show I put on if Penn State loses. But we aren't going to think about that right now. (Just stay tuned into my Twitter, just in case…)
Tomorrow will be the first college football game I have ever ventured to as an opposing fan, and I'm a little nervous. Not as nervous as I was before Maryland lost to, wait for it, Temple! — but I am a realistic fan that also happened to see PSU struggle against Pitt (who did beat the National Champs). Needless to say, I've been teetering on the edge of a breakdown this week. Actually, I've already exploded for a few, but unrelated to this game. Don't worry about me, I'm fine. I swear.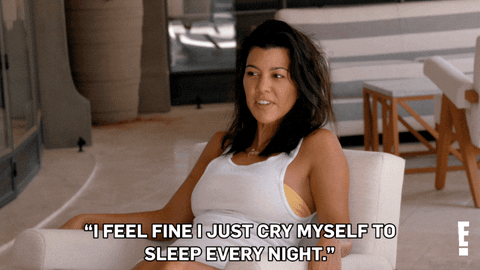 My general mental instability aside, Maryland is cancelling afternoon classes, instituting a stadium "blackout" (which isn't that cool, honestly — I do that every game regardless of my shirt color), and their fans just despise Penn State in general. Well, actually, so does everyone else in the country. Now that I look at it, you're not special Maryland! Join the freakin club! Remember in 2014 when Maryland's captains refused to shake hands with Penn State's?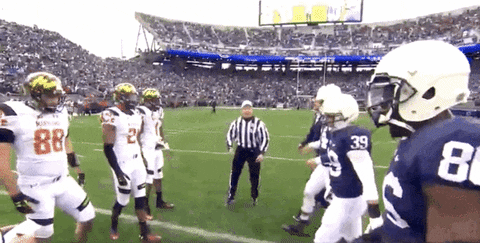 The final score of that game is totally slipping my mind right now (please don't google it, I know you have better things to do), which is weird because usually my brain operates like a steel trap. But seriously? The teams hadn't played in TWENTY-ONE SEASONS and you come out acting like these guys have been viciously insulting each others' mamas on Twitter for years on end? Puh-lease.
Penn State is 4-0 since the handshake game (like I said, not sure of the score there so we can't include it), and the fifth one is coming. In fact, they're 39-2-1 on the series. Put that in your hand and shake it, bitch (sorry Mom, getting heated) (also that sounded unintentionally dirty but I'm leaving it). My guys are coming off a well-timed bye, which is worrisome for me to admit after only three games, but whatever. I'm not afraid to call it like it is.
This game will also be the first Friday night football game I have attended since high school (or middle — it's all a blur when you're just a nerd tryna get by), where all the cool kids just walked around the track creating drama with each other, and I hoped that someday I'd randomly get involved with it. That usually doesn't happen when you're afraid to speak to people, though, so I never did. Penn State had a one-week bye, but mine has spanned about ten years, and I am back with a vengeance, ready to have a positive Friday night experience for once.
And of course, you know what comes next — my gambling pick that you're all going to pick against, which normally I couldn't fault you for. I'd never be upset, disappointed, hurt, or the like… but if you actively choose to fade me here, you are also rooting for me to be an even more miserable slave to the internet than I already am. As loyal followers of mine, that's just uncool.
Penn State @ Maryland, 8:00 PM
Take Penn State -6.5. It's a freaking touchdown. Even if Penn State wins, if they can't beat Maryland by a freaking touchdown, I am not going to be in a desirable head space. So tomorrow night, you're going to take PSU, for whatever amount of money your little heart desires, and you're going to believe in them like nothing you've ever believed in in your entire life. Because you love me, and you want nothing but pure happiness, elation, and joy for me. I had a horrible Sunday, remember? This week has only cascaded downhill from there, and I NEED THIS. SEND T'S & P'S AND PENN STATE BETS. WE'RE ALL IN THIS TOGETHER, OKAY???
Friend: Who you taking in PSU/UMD tonight?

You: I'm on Penn State because some weird blogger chick's life is a mess and she told me I have to be.

Friend: Ok great, I'm cashing out my 401K early and putting it on Maryland then.

You: *slowly nods in agreement but would never betray me in a time like this*
And even if your friend wins that bet, he's still losing in the grand scheme of things, because he doesn't follow me on Twitter or root for crazy people to find peace — both things that I find to be ridiculously unfortunate.
Anyway…
There are three other games on tomorrow, but I'm only going to give you one more pick since I was already nice enough to dish out my "Caroline's-Life-Can't-Get-Any-Worse Lock of the Week. " Now you're stealing from me.
Duke @ Virginia Tech, 7:00 PM
Herein lies my "Do-It-For-Danny-Dimes Dagger-In-The-Hokies'-Hearts Lock of the Week." Admittedly, I don't know anything about either of these two teams. But I think that's why I've had much more success betting on CFB than the NFL (albeit, the lowest of low bars to clear in the history of bars) — I know too much and overthink everything to death.
I do know, however, that Mothafucka Jones balled out to lead an impressive comeback victory last week. You don't think that pumped up his former teammates? "Hey, no one cares about Duke football, but they do care about Daniel Jones, so maybe someone will care about me, and I can get drafted too!" There's no way at least like three of them didn't have a similar thought at some point this week. Sure, they're smart, but they don't actually wanna be surgeons. They wanna be the real heroes in this world, the ones that run around giving each other CTE on Sundays and keep those know-it-all doctors employed. And that's enough for me.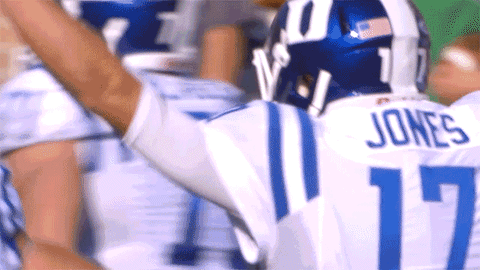 Additionally, my boss is a Virginia Tech fan, and is hosting a watch party for this game and the Penn State game, as his girlfriend is an alum of the correct school. Every time he brings it up, he mentions that they have one large television, and one that is about the size of the computer screen I stare at all day. Defeated before he even attempts to defend himself, he repeatedly states that he will probably get relegated to the monitor, as nobody else is going to care about this game.
Virginia Tech has their awesome Enter Sandman entrance, but after narrowly escaping Furman at home, their fans feel like they're stuck in quicksand. Could this be an extremely isolated situation that is only playing out because we're in central PA, so of course everyone wants to watch PSU instead? Maybe, maybe not. Regardless, the general disposition of my boss has been sullen since week one. Perhaps this is because he has to work with me, but that couldn't possibly be true.
The line is 2.5, but as you all know, no self-actualized woman messes around with the small stuff, so we're hammering Duke ML and dumping the Hokies down a royal blue toilet. Just be polite and don't forget to flush.