Are you feeling it? Are you mad? Has your bracket been torn to tiny irreparable shreds of what once stood as a symbol of hope and future monetary gain? Does your bookie have a bounty out for your head? Have you listed a kidney on Craigslist yet to repay him?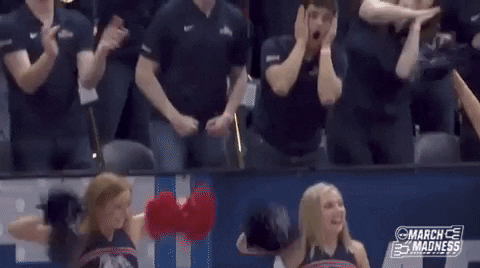 Let's get back into it, shall we? The (somewhat visually impaired) people have voted, and the official NFL Uniform Bracket has made its way onto the Sleek Sixteen. If you missed the first round, fill yourself in here where I initially explained my rankings that some of you rudely decided to ruin by picking a few upsets in the first round. Just kidding, I love upsets because:
(But seriously, how dare any of you disagree with my aesthetic preferences.)
See a bigger version of the bracket here, and make sure you vote on my twitter @_supcaroline to send the most deserving uniforms into the Exquisite Eight.
North Division
#8 Green Bay Packers vs. #3 Chicago Bears
We had a MAJOR upset in the round of 32, where the Packers took down the top-seeded Vikings by the narrow edge of 51% to 49%. It was like a reverse Minnesota miracle, which makes sense, because long-gone Case Keenum is always the quarterback you'd want in a late-game situation.
Clearly, you people were never taught that purple is the color of royalty. It doesn't matter that Kirk Cousins is donning the threads. It still plays. Instead, we're stuck with the moldy-cheese Packer uniforms, as I explained in the first blog. Don't get me wrong, I like a good blue or gorgonzola. But perhaps you misunderstood. These uniforms are like a bright yellow American cheese that was infected by that terrifying blue-green fur. Are you repulsed yet? Go Bears.
#4 Pittsburgh Steelers vs. #2 Baltimore Ravens
Both the Ravens and the Steelers moved on fairly easily from the first round, although we did have one very angry voter who also missed the royalty memo:
He's a Giants fan, so please give him space during this clearly very trying time where he feels the unwarranted need to lash out at innocent bystanders.
As for this impending matchup, I like the Ravens. The bruising black and purple should take care of the Steelers, squashing the way-too-short top part of Ben's "7" even further into unrecognizable oblivion. He'll be wearing a #1 jersey next year, which will look even worse on his massive frame.
South Division
#1 Jacksonville Jaguars vs. #3 Carolina Panthers
Oooh, it's the battle of black and pretty shades of blue! The Panthers blew the Texans out of the water last week, while the Jaguars did not have as much success against the Colts as I would have expected.
Speaking of black and blue battles, did anyone else happen to catch that UCF-Duke game last night? That was sort of enthralling, for those of us out there who have any semblance of a soul and pulse. I would not be shocked if this uniform battle ended similarly, with the Carolina team coming out on top of the Florida one. As a Mexican food connoisseur, I'll let you in on a little secret — Tackos are overrated anyway (*ducks for cover*).
#5 Atlanta Falcons vs. #2 New Orleans Saints
Over the past three NFL seasons, both the Falcons and the Saints have had some very disheartening post-season experiences. Fortunately for them, one of them has to win this! Unfortunately for them, the Super Bowl carries a little more weight than my made-up uniform bracket with no prize beyond bragging rights. At least all NFL players are in it for the love of the game and the competitive nature that drives them to win in everything they do. Antonio Brown was contacted for comment, but he was busy demanding another trade because no one told him that Derek Carr was his new quarterback.
East Division
#1 Philadelphia Eagles vs. #3 Miami Dolphins
In round one, both teams could have been asleep and still would have blown out their lackluster opponents (the Dolphins actually may have been, as that is how they normally operate). Sorry Dolphins fans, but one of your own gave me approval to make these types of jokes:
Wisecracks and Eagles biases aside, I do foresee this being a sensational showdown. With two dominant uniforms on hand, it may simply come down to who is looking better in their respective garb. Us Philadelphians haven't seen the sun in quite some time and have been shoveling cheesesteaks in our mouths all winter, since we can conveniently cover up their unflattering effects with endless layers of clothing. It won't be bikini season for a few months, and we are well aware. Expect Miami's perma-hot bodies to give Philly a run for their money (but certainly not for a Lombardi).
#4 Buffalo Bills vs. #2 New England Patriots
Before Gronk retired Sunday evening, I was going to give the Bills a real chance at taking down the world champs in this one. While Gronk didn't die, he may as well have, as he is leaving a GOAT-sized hole in the Patriots' hearts that could never be replaced and will leave them feeling depressingly empty. But as is the Patriot way, they will use this as fuel to put up yet another W on the Bills. Both teams don red, white, and blue, but the Patriots just do it better. Gronk was one of the best to wear it, and the uniforms of his former team members will surely show out in the Sleek Sixteen in his memory. Should the team choose to put every player in a #69 jersey, the victory would be sealed before the contest commences.
West Division
#1 Los Angeles Chargers vs. #3 Seattle Seahawks
Featured here is what is sure to be a tightly contested match-up between two former NC State quarterbacks wearing navy jerseys with super sleek fonts that are a bit too hip for the both of them. In such an evenly matched fight, it's simply going to come down to who wants it more and is willing to put everything on the line to win. Drastic measures will be taken. Cam Newton could teach these guys a thing or two about sacrifices:
Nine-kid Philip Rivers, uh… clearly spends less time in his uniform than formerly-born-again Russell Wilson. This raises the question: Does Philip Rivers hate the Chargers' uniforms? Is he embarrassed to wear his? Some would say his heart is not in this fight, and we should all remain on upset alert because of it.
#4 Denver Broncos vs. #2 Los Angeles Rams
I gave both of these teams fairly favorable rankings in the initial blog, but looking at them now, brain perishing after four straight days of basketball, I'm a tad underwhelmed with what sits before me. Coming on the heels of a weekend where we got to see Oregon's flashy lime green take on Wisconsin's crisp cardinal and white, how is anyone supposed to get excited about this somewhat dull clash?
This one may end in an uninspiring tie, for which I'd have no set rules to determine a champion. The Rams received a gift in the NFC Championship, so they probably don't need another, right? That works. Potential tie settled.
GO VOTE!