Daaaaamn Caroline, back at it again with the lockdown, homerish well-informed Penn State picks! In case you missed it, the Nittany Lions covered -3.5 at Iowa last week, even though John O'Neill and his crew did everything in their power to prevent it from happening. And I did this because I'm an insane person (which you knew):
As you probably could've guessed, I'll be in attendance for Penn State's annual whiteout tonight, so I do not currently have a "bet beyond the bet" in place to entertain you all with. However, I may die of alcohol poisoning, and will be sure to publicly document my downfall, should it occur. More on that game later. I'm sure you're falling off your seat in anticipation of hearing my super surprise take on that one.
In the meantime, let's get to the much less important games going on around the country this afternoon. It's time to green-out your bank accounts. Get it???
Florida @ South Carolina, 12:00 PM
Undergraduate degree-related biases aside, this game is extremely intriguing to me.
Noon games, like the Gamecocks, are a strange bird.
Florida just had their dreams go to die in Death Valley.
The Cocks are coming down from the high of knocking off UGA in Athens.
Ryan Hilinski, the peoples' hero, was injured last week.
Columbia, also known as "The Armpit of the South," plays host to this game.
All of that, and the line sits at Florida -5. Is this a trap? Does USC (state before Southern Cal was a school) have another top ten upset in them? Even as a Cock, it's tough to say. Nevertheless, this line has just enough of my attention to take the points. Cocks +5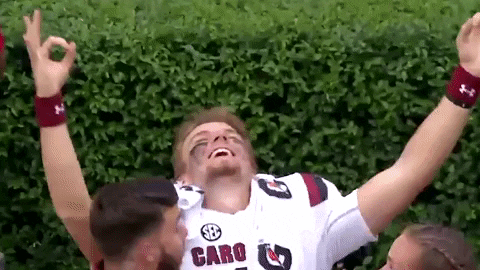 Oregon @ Washington, 3:30 PM
After watching Oregon ruin Colorado +22 last Friday night, I cannot resist laying the points. Previously, I had visions of drunkenly watching Oregon vs. Auburn in a State College hotel room in my head, but as it stands here in week 8, they are legit. Washington is obviously better than the Buffaloes, and it's on the road, but it's a field goal for crying out loud (which is coincidentally what I'll do if all of these picks lose). I'm not getting fucked by the ducks again, and neither will you. Furthermore, lest we forget the Monday night victory led by Steelers' new QB, Devlin "Duck" Hodges. It's a good week to be a waterfowl. Oregon -2.5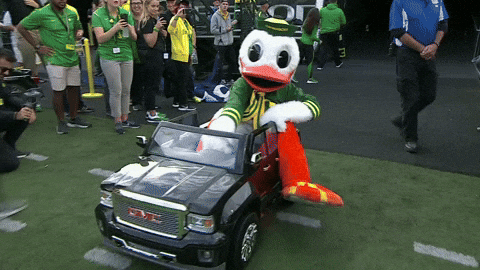 Kentucky @ Georgia, 6:00 PM
If UGA wants to retain its College Football Playoff hopes, this is the beginning of their "Get Your Ass Back Out There And Prove It" tour. The perfect way to start such a journey? Night game, at home (although they did just lose to the Cocks there…), and against an inferior opponent (well, back to the Cocks again…). Kentucky did lose to South Carolina, though, so at least the Dawgs have that going for them.
Is Georgia overrated? Is Jake Fromm need help to cu–stop regressing? Does a spread of 25 scare me, unless Penn State is the favorite? Perhaps, x3. However, I don't see how the Dawgs don't go for the jugular of some stupid cats (gross) and make sure people are still paying attention to them. Let's just hope hey operating with proper 20-17 20/20 vision — don't want any residual tears left in their eyes after USC took a few branches from their precious hedges. UGA -25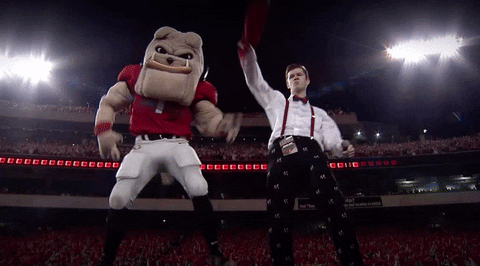 Michigan @ Penn State, 7:30 PM
And now, ladies, gentlemen, and twitter trolls alike… it's time… for the main event!
Does this look like the setting of a football game where Michigan got its doors blown off two years ago? If you said yes, congrats! Because it was, to the tune of 42-13, and it was over from the get-go.
In fact, the last three games between these two teams have resulted in absolute destruction by the home team, which does in fact mean that it's Penn State's turn today. Unfortunately for Michigan, it will enter the same environment it did two years ago, almost let Illinois erase a 28-0 lead last week, and is also still coached by Jim Hairball.
According to my sources (yeah that's right, I got sources), all suites and club seats are sold out, including standing room, and large companies have been offering up to $5,000 per ticket if PSU will print more standing room ones. In the twenty years this source has been handling these operations, he's "never seen such outrageous requests." So uh, don't expect the environment to suddenly become any less intimidating or insane. In each of the last two years, the attendees of the revered Whiteout have broken Beaver Stadium's attendance record, and I think we're in for a three-peat. Say good-bye to that measly 110,889!
Is there even a question as to what my pick is? No, but you've probably already bet this because it's too easy. **For the record** I took this very early at PSU -4.5, but the line officially opened at -7.5, and is now at -9. I'm trying not to be overconfident, but guess what, I don't care what it is. Take the shit out of it and thank me later not very long into the game. PSU -9