Although there are endless wonderful things I will cherish from my two-year adventure in Philadelphia, one of the most recent developments is my three-month relationship with America's pastime (does anyone still call it that without using sarcasm?). Living smack-dab in the center of the city's action, not yet a member of any baseball fanbase, it was hard not to fully embrace the phrenzy that I was surrounded by on a daily basis. (Yes, I spent a baseball season in Philly before this year, and didn't watch a single game, but telling you that would take away from the atmosphere I am trying to get you to envision. So ignore that part.)
Three months ago, just prior to opening day, I decided to dive bright red ball cap-first into the apparent heartbreaking nightmare that is the Philadelphia Phillies. I attended games in Citizens Bank Park, streamed them online, bought the ridiculously-priced apparel — you know the drill.
In fact, one evening, I even went so far as to venturing out to a game by lonesome. Just a simple subway ride down Broad Street — nice and easy. Sure, that sounds like something a loser would do, but that's because I'm a loser. Besides that, there's also just a certain calmness to sitting there without having to deal with anyone trying to talk to you about the game, or even worse, topics completely unrelated to it. The Phils almost blew an eleven-run lead to the Marlins that night, which looking back at, is not shocking. It's actually incredible that they won. But it was a fabulous time.
Speaking of the Marlins, I never thought I'd know a version of myself that is genuinely disgruntled about the Phillies' uncanny ability to get continually destroyed by them. But alas, here I am, an entirely different woman than I once was. We have reached the midpoint of the season, as tonight will bring us the 2019 All-Star Game, and I hold steadfast to my commitment. Through three months of diehard (sorta) baseball fandom, I've learned quite a bit:
1. "Rake" is not just the word for a tool used to gather fallen leaves. At least not for those of us over a certain age. Kids these days probably only know it in terms of Christian Yelich's hitting prowess. They're way too busy watching other kids shriek and spew profanities in strange voices on YouTube (or at least my brother is) to be even remotely familiar with the pure joy that comes from time spent frolicking in a luscious leaf pile.
2. There's a sizable chance that actual cattle would do a savvier job maintaining a team's lead than many of the pitchers waltzing out of major league bullpens.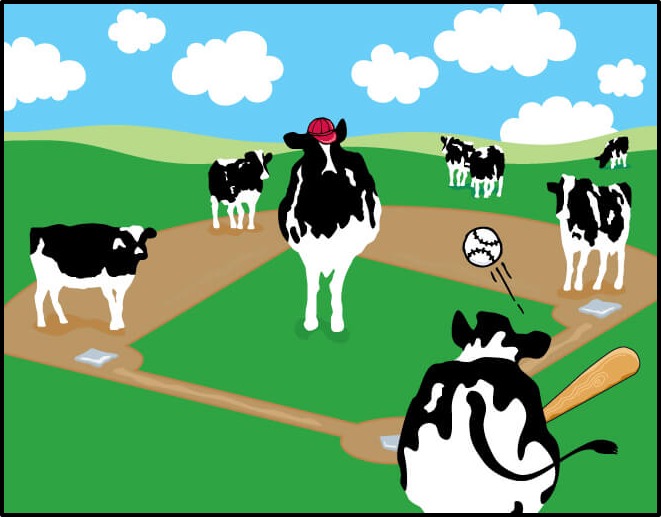 3. There are a ridiculous number of terms that can be substituted for "home run," and I'm not sure that it is possible to ever know all of them. I'm partial to "dinger," but "tater" is also nice, because it reminds me of a time when my metabolism was good enough for me to regularly eat potatoes without consequence. If I'm sticking with keto, my term of choice might have to be "fat bomb." I have a good recipe for them if you want it. Sugar-free chocolate chips. Mmm.
4. If someone pays you $330 million to hit a baseball, it's advisable that you do so.
5. I need to marry someone who is getting paid $330 million to play a child's game. To all the MLB players that are reading this (none of them): the DMs are open and so is my bank account. I have not yet decided which is drier between the two.
6. Besides the fact that I have less coordination than a baby deer fresh out of the womb, there is one glaring reason that I could never play baseball. THE HUMIDITY. The thirty seconds I spend each day walking from my car to my office in the summer are enough to contemplate taking a shower in the bathroom sink before I even say hello to my coworkers. Three or more hours in a swamp, melting into a puddle so that only your firmly matted hat hair and delightfully tight baseball pants remain? Forget it.
7. I'll leave you with a list of seven tidbits, since I've also learned that above all, baseball is an incredibly superstitious sport. Which, in my opinion, is not stupid, as many of life's superstitions may be seen. Let's face it — baseball isn't the most thrilling sport any of us have ever watched. If I had to guess, between 162+ games, the players get pretty damn bored themselves. Just a thought.
Plus, I've tried it, and I won't knock it. During my tenure as a swimmer, I had plenty of silly superstitions that came and went from my routine. Did any of them help me become successful? Well, I'm sitting here writing a blog about sweaty hat hair, so I think you can use deductive reasoning on that one, but I understand the sense of security that they can provide. And heck, I'd be lying if I said my lock screen was not currently a picture of Scott Kingery and some bamboo. 'Cause, ya know, it's obviously helping the Phillies win games.