If it feels like The Bachelor and its adjacent shows control the reality television landscape year-round, it's because they do. After just two short months since the last season concluded, here we are, back again for another round of salty tears, slimy villains, and in-depth looks into the somewhat concerning personalities of your new favorite Instagram influencers. Oh yeah, and "love," I guess.
For quite some time, I was a dedicated viewer and follower of every show that the franchise encompassed, but last season, I had to take a break and clear my head (while I watched alternative forms of trash TV instead). I too, felt as if the producers had me strung like a marionette, manipulating my precious mind and filling it with senseless mush.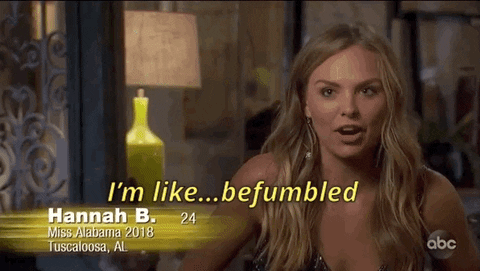 But much like Dave Gettleman with Eli Manning, I just can't quit this show. You, on the other hand, probably fall under one of three categories:
You are a proud watcher of the show and will voluntarily admit to it.
Your mom and/or significant other watches and you pretend that you don't like it but are actually hanging onto every rose.
You truly are not a fan, but could be convinced with the help of one pop culture-savvy sports blogger by the name of SupCaroline.
I will not acknowledge an Option 4.
Regardless of my past, I'm going to need a little help easing back into the show and the people who make it as annoyingly addicting as it is. I figured that as I am doing this, I would invite you all to join me as I attempt to view the actors contestants of this season through the lens of the one thing we do all love openly: football (and some other less important sports).
What could any of us possibly have in common with the fame-hungry men that are willingly subjecting themselves to nationally-televised public humiliation? Well, for starters, I'm not writing these blogs so that no one will read them, or so that people will think that I'm a totally normal person. Heck, a few of the show's leads and contestants even played in the NFL. So, to answer the above question — probably a lot more than you'd think.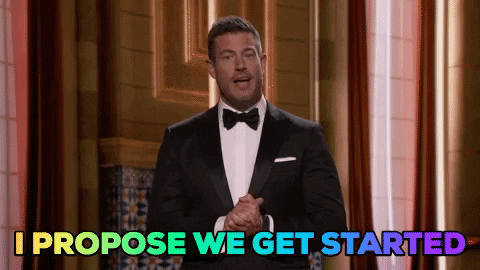 Hannah Brown, 24, The Bachelorette from Tuscaloosa, AL
"Born and raised in Tuscaloosa, Hannah, 24, attended the University of Alabama, graduating magna cum laude with a degree in communications."
If Hannah wants us to feel bad for her because she had to turn to two different television shows to find love, she can stop now, because I'll never feel an ounce of sadness for an Alabama fan for as long as I live. Her communications degree likely consisted solely of classes that taught the students to say "Roll Tide," with a mouth full of boiled peanuts, and how to successfully flirt with and court your cousins. So perhaps turning to this show instead of the next family reunion was actually the correct move for her?
Connor J., 28, Sales Manager from Newport Beach, CA
"Connor J. is the kind of guy your dad wants you to end up with."
In high school, my dad once set me up with an extraordinarily dumb football player that couldn't form complete sentences, so I'd need to do a little more research on Connor to figure out if he fits that impressive bill.
Garrett, 27, Golf Pro from Birmingham, AL
"He once snuck into Mississippi State's football stadium after hours and made out with his girlfriend on the 50-yard line."
This is like a way, way sadder version of Bradley Bozeman proposing to his girlfriend on the field after Alabama won the National Championship.
Joey, 33, Finance Manager from Bethesda, MD
I'm sorry but I am physically/mentally/spiritually unable to get past whatever is happening with his part and hairline. Thus, I cannot form a sports-related comment on his bio.
Actually, sticking with the hair, it looks like it's growing back after receiving one of those bad haircuts that rookies get during the hazing process.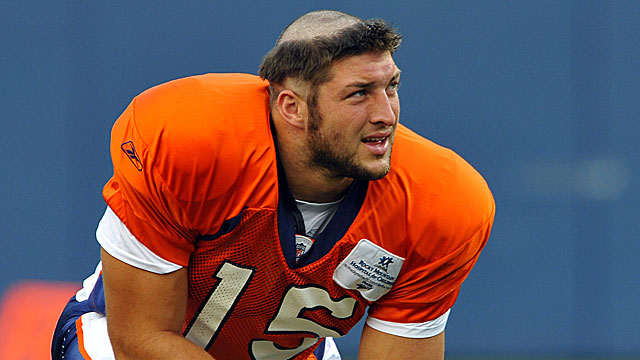 BOOM. Even when I can't do it, I still do it.
Scott, 28, Software Sales Executive from Chicago, IL
"He says he is very skilled at schmoozing waitresses into giving him free food and drinks."
Hm, I wonder what the Perkins are like in Chicago?
Connor S., 24, Investment Analyst from Dallas, TX
"He swam competitively in college."
Ah, crap. There it is. Only took five guys (yum) to get here. I do have something in common with a guy who signed up for The Bachelorette. But you don't see me bragging about it in every other blog I put out! (Yes you do.)
John Paul Jones, 24, Financial Analyst from Lanham, MD
"When referring to John Paul Jones, always use his full name: John Paul Jones."
There's absolutely no way this guy didn't waltz around his high school like he owned the place because he was a starting wideout on a team that ran the Veer offense. He got away with it because only one girl in the entire high school, who was very far removed from the popular crowd (me), knew (or cared) that this meant he was lucky to have one target per game.
Chasen, 27, Pilot from Ann Arbor, MI
"He once bought a Tiffany necklace for a girlfriend, but she dumped him before he could give it to her, so he gave it to his sister instead."
I'm almost positive that this exact scenario happened to Eli Manning, regardless of the fact that he doesn't have a sister.
Luke S., 29, Political Consultant from Washington, DC
"Luke says that he once hit on Emily Ratajkowski and made her blush."
As a fourteen-year-old, I once saw Ron Rivera in a hotel and yelled, "Oh my gosh it's Ron Rivera!", promptly scaring and confusing the shit out of him. Which is a story that is not only much more impressive, but also one that actually happened.
Daron, 25, IT Consultant from Buckhead, GA
"Daron may seem like a tough guy on the outside, but really, he is just a giant teddy bear."
Daron is one set of shiny new braces away from being as cool as my new favorite teddy bear of a football player that could also rip your head off, Quinnen Williams.
Brian, 30, Math Teacher from Louisville, KY
"Brian loves math. He loves math so much that he teaches it at the same high school he attended."
This makes me think of Carl Nassib teaching his teammates about compound interest — aka, the most adorable Hard Knocks segment of all time. I'll never forgive the Browns for cutting him. Carl, when I inevitably give up on life to become the Bachelorette, please sign up.
Devin, 27, Talent Manager from Sherman Oaks, CA
"He says he has trouble finding love in Los Angeles because no one in L.A. wants anything serious."
When examining the Chargers' stadium every Sunday and the number of Rams fans at the Super Bowl, this checks out. If you can't love football, you're incapable of love.
Mike, 31, Portfolio Manager from San Antonio, TX
"He has a lot of swag but is a romantic at heart." 
Embarrassing of him to admit that he has swag when we have all recently learned that real swag is no swag.
Dustin, 30, Real Estate Broker from Chicago, IL
"Dustin says that if a woman wants to be with him, she'll definitely need mom's approval first. She'll also need the approval of the other important woman in his life, his English bulldog, Sophia."
Sorry Dustin, but we've had bulldogs on this show before, and it ended even more painfully than the National Championship two years ago.
Ryan, 25, Data Analyst from Philadelphia, PA
"Ryan was his high school valedictorian."
I know another Ryan who went to Harvard and scored a 49 on the Wonderlic. Not impressed.
Tyler C., 26, General Contractor from Jupiter, FL
"Tyler was drafted by the Baltimore Ravens but had to leave football because of a bad shoulder injury."
While I'm glad this season has its token football player, I looked it up — he was signed as a UDFA out of Florida Atlantic (s/o Lane Kiffin). This is obviously still impressive, but if The Bachelorette is going to reel me back in, they're gonna need to get their football shit correct. Especially when dealing with my love of the draft.
Also, do you think he and Bob Kraft are tight?
Matteo, 25, Management Consultant from Atlanta, GA
"On the side, Matteo is a sperm donor who has helped create 114 children for all types of families—talk about an ice breaker."
Antonio Cro-Matteo-ie.
Jonathan, 30, Server from Los Angeles, CA
"Two places Jonathan really wants to visit are Miami and New Orleans."
Forget Miami, I've seen this movie before. They'll have doubts about your post-injury shoulder strength. NOLA is the place for you, and Miami is going to regret their actions for a long, long time when you go on to break every passing record in the book.
Grant, 30, Unemployed from San Clemente, CA
"Grant considers himself to be romantic because he enjoys PDA."
If he'd like to take his relationships even more public, Danny Amendola could teach him a thing or two about airing out all the dirty details via novel-length Instagram captions.
Hunter, 24, Pro Surfer from Westchester, CA
"If the waves allow it, he'll be in the water every day."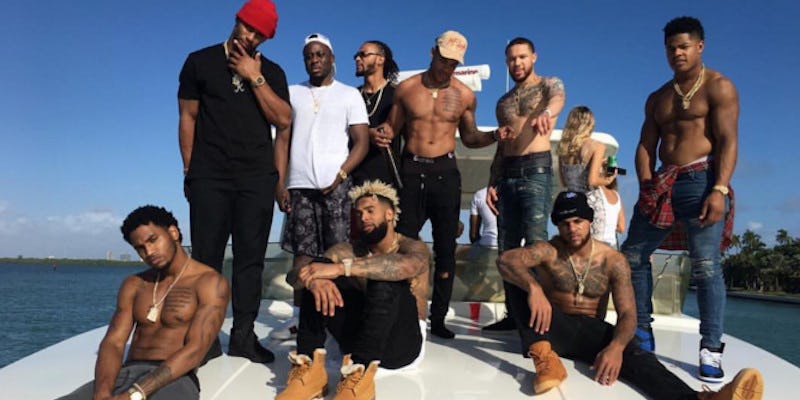 Do you think he'd like to test that athletic ability on an NFL field instead? Perhaps has a wide receiver? In New York? Cleveland, if things go south? I hear they love boats there.
Thomas, 27, National Recruiter from Detroit, MI
"Thomas' family has never met anyone he's dated."
Ah, so he will be taking the Aaron Rodgers approach to the show over the Jordan Rodgers one.
Jed, 25, Singer/Songwriter from Nashville, TN
"Jed finds it easiest to express his feelings and be vulnerable through his music; but after his last relationship ended terribly, Jed stopped making music and said it was one of the hardest times in his life."
Damn, this reminds me of Le'Veon Bell and his fallout with the Steelers. We can only hope that he doesn't stop dropping those fire mixtapes now that he's moved on to the Jets. I wonder if Keenan Allen ever told Jed that his music was trash?
Joe, 30, The Box King from Chicago, IL
"Las Vegas is Joe's favorite place in the world."
I bet his family's cardboard box business would build an amazing new stadium for the Raiders! It's certainly a step up from playing on a baseball diamond.
Cam, 30, Software Sales from Austin, TX
"He loves to be the life of the party and is the self-proclaimed 'dance floor king.'"
I'd pay a lot of money (disclaimer: $30 is a lot of money to me) to see this dude and Gronk in a dance-off.
Kevin, 27, Behavioral Health Specialist from Manteno, IL
"Kevin wants to travel more, but he won't go anywhere that doesn't have an available gym."
Alright, cool the jets, JJ Watt.
Luke P., 24, Import/Export Manager from Gainesville, GA
Tim Tebow is his hero.
Oh, no. I didn't even watch last season of The Bachelor and I still don't think I can make it through another three months of overplayed virgin narratives on this show.
Matt Donald, 26, Medical Salesman from Los Gatos, CA
"Matt's brother and parents are deaf, and he grew up speaking sign language. We love a man that can communicate what he's thinking with his hands without ever saying a word…"
This will come in handy if Matt gets stiffed by the Seahawks' front office and subsequently breaks his leg in week 4.
Dylan, 24, Tech Entrepreneur from San Diego, CA
"Dylan's favorite sport is basketball."
Do you think he played in college?! If Chris Harrison doesn't endlessly mention this every time Dylan is on the screen, it's a tremendous miss.
Matthew, 23, Car Bid Spotter from Newport Beach, CA
"He grew up on his family's winery and would love to join that business one day."
I hope for his family's sake that LeBron stays nearby in L.A., or that's a ton of business they're missing out on.
Peter, 27, Pilot from Westlake Village, CA
"Peter's life motto is 'you should live this life always expecting something great is about to happen to you.'"
That's cute and all but no one has offered me an NFL GM job yet so I now declare it stupid.
Tyler G., 28, Psychology Graduate Student from Boca Raton, FL
"He adheres to a strict keto diet."
Kinda looks like a darker version of Tebow and follows the same diet as him. Wow, third Tebow mention in this blog. What are the odds that we skip the Fantasy Suite episode entirely this season?
Tune into The Bachelorette tonight at 8 PM on ABC to watch all of the production-manufactured magic and testosterone-charged tiffs as they unfold!
No, this was not a sponsored blog, but if you work for ABC, feel free to throw me a few bucks for this excellent promotion. I had to buy new contacts last week and apparently having sub-par vision will run you pretty dry.